The AMERICAN HEART ASSOCIATION 
"Nicotine addiction has historically been one of the hardest addictions to break, COMPARED TO "HERION AND COCAINE"

DON'T BE FOOLED BY THE BILLION DOLLAR NICOTINE REPLACEMENT COMPANYS!!!! 


IF NICOTINE" PRODUCTS LIKE THE ELECTRONIC CIGARETTE, PATCHS, GUM ETC., ARE USED WITH CIGARETTES. THIS CAN CAUSE 
INTOXICATION (NICOTINE POISONING)
 OR EVEN DEATH. NICOTINE IS A VERY POISONOUS ALKALOID FOUND IN TOBACCO. NICOTINE IS VERY ADDICTING.WHEN NICOTINE IS INGESTED,IT CHANGES THE FUNCTION AND STRUCTURE OF YOUR BRAIN., NICOTINE SENDS RECEPTORS TO THE BRAIN, THIS CAUSES A RELEASE OF NEUROTRANSMITTERS SUCH AS DOPAMINE. THIS CAN CAUSE THE BODY PLEASURE, THE BRAIN MAY BE TRICK INTO BELIEVING IT WILL NEED MORE NICOTINE TO ACHIEVE THE SAME PLEASURE, AND THIS CAN LEAD TO ADDICTION. THROUGH THE YEARS, THE LONGER YOU USE ANY KIND OF NICOTINE PRODUCTS, THE MORE AMOUNT OF NICOTINE YOUR BRAIN NEEDS FOR PLEASURE. COCAINE AND HERION ALMOST HAVE THE SAME EFFECTS ON THE BRAIN.

SO, GOING ON ANY NICOTINE REPLACEMENT PRODUCTS JUST KEEPS YOU ADDICTED TO NICOTINE.






NICOTINE IS USED AS AN INSECTICIDE TO KILL BUGS.

NICOTINE INCREASES BLOOD PRESSURE AND HEART RATE IN HUMANS. NICOTINE AFFECTS BLOOD FLOW TO THE HEART. THE BLOOD ISN'T ABLE TO CARRY AS MUCH OXYGEN THROUGH THE BODY WHICH CAN CAUSE MANY PROBLEMS. NICOTINE CAN ALSO INDUCE POTENTIALLY ATHEROGENIC GENES IN HUMAN CORONARY ARTERY ENDOTHELIAL CELLS.

A STUDY ON RATS SHOWED THAT NICOTINE EXPOSURE ABOLISHES THE BENEFICAL AND PROTECTIVE EFFECTS OF ESTROGEN ON THE HIPPOCAMPUS USED FOR MEMORY FUNCTION OF THE BRAIN. IN ONE STUDY, NICOTINE GIVEN TO MICE WITH TUMORS CAUSED AN INCREASE IN TUMOR SIZE. STUDY IN DENMARK OF ABOUT 77,000 PREGNANT WOMEN, WHO USED IN THE EARLY STAGES OF PREGNANCY, NICOTINE REPLACMENT PRODUCTS, WERE FOUND TO HAVE AN INCREASED RISK OF HAVING BABIES WITH BIRTH DEFECTS.  
CAFFEINE IS MUCH, MUCH LESS ADDICTIVE, AND HAS A FAR LESS NEGATIVE SIDE AFFECT THEN NICOTINE
.                       "THE ONLY WAY TO QUIT NICOTINE IS TO QUIT NICOTINE ALL TOGETHER!!"

"While quitting smoking is extremely difficult—six out of 10 smokers require multiple quit attempts to stop smoking—preparing a quit-smoking plan can greatly improve a person's chance for success."  

20 Minutes:Your Pulse rate and Blood Pressure will start to return to normal.

TWO Hours:Your Blood Pressure and Heart rate will decrease to normal levels.

EIGHT Hours: Your Oxygen Levels will return to normal.

12 Hours:Carbon Monoxide levels in your blood reduce dramatically.Oxygen levels in the Blood increase to normal.

24 Hours:The heart attack rate declines in just one day with no smoking.

36 Hours:Lung start to clear out mucous and other smoking toxics

48 Hours: About 70% of the Nicotine is out of the body.

60 Hours: Ability to taste and smell is greatly improved.

72 Hours:  The body is FREE of Nicotine.

80 Hours:  Bronchial tubes begin to relax It becomes easer to breath.

96 Hours Your Energy Increase.

2 to 10 weeks: Your Circulation Improves. Lung function increases.

12 to 40 weeks: Coughs, Wheezing, and Breathing problems improve as lung functions increases.

ONE YEAR: Excess risk of Coronary Heart Disease is reduced by half. Your Chance of Coronary Disease will continue to decline. The risk of repeat heart attacks and death of a heart disease will reduce by 50 present.

FIVE YEARS: Risk of HEART ATTACK will fall to half compared to a cigarette smoker. Risk of have a stroke will return to same level of a person who never smoked.

TEN YEARS:Risk of Lung Disease, and other smoking related diseases, will drop to half that of someone who smokes. 

15 YEARS: THE RISK OF HEART DISEASE,  THE SAME LEVEL AS SOMEONE WHO DOESN'T SMOKE. SAME TO THAT OF A NON-SMOKER.

One in every Two smokers will die of a tobacco related disease this year.

 Not only dose Cigarette Smoking cause Heart and Lung Disease, BUT also can cause diseases throughout the whole body.

Tobacco use is the single most preventable cause of disease, disability, and death in the United States of American. Each year, more then 440,000 people die prematurely from smoking or from secondhand smoke, That is  more then the population of Miami Florida,and almost another nine million live with a serious illness caused by smoking tobacco.

"EVERY DICISION WE MAKE CHANGES OUR LIFE" -Tommy Russo

don't be a statistic...BE A SUCCESS STORY...

WE ARE HERE TO HELP YOU!!!!!

"TIME IS OUR MOST PRECIOUS COMMODITY. DON'T WASTE IT"

​ 

1. Immediate physical healing "AS LONG AS YOU STOP SMOKING BEFORE THERE IS IRREVERSIBLE DAMAGE" 

2. Improved taste and smell

3. Improved heart health AMERICAN HEART ASSOCATION- "The health benefits start almost immediately, and within a few years of quitting your risk of stroke and coronary artery disease are similar to non-smokers." 

4. Improved breathing

5. More energy, you have dropped the carbon monoxide levels and raised your oxygen levels in your blood, and replaced tar, nicotine, and smoke, with clean air.

6. Greatly reduced your risk of death from heart, lung, and other smoking related diseases: approximately ½ A MILLION PEOPLE DIE EACH YEAR BECAUCE OF CIGARETTES . That is more then twice the population of Washington D C, and we are not even considering second hand smoke into the astronomical equation.

7. Better quality of life "FOR THE REST OF YOU LIFE"

8. Substantial financial savings " THE AVERAGE SMOKER WILL SAVE ABOUT $30,000 IN 10 YEARS BY QUITING TODAY"

9. Feeling of success and accomplishment "OVER 1000 PEOPLE A DAY QUIT SMOKING AND SO CAN YOU!!"

10. Lowered your blood pressure

11. The feet and hands increase there body temperature.

12. OH YEAH!! A LONGER HEALTHIER LIFE!!

  WE CAN HELP YOU QUIT SMOKING TODAY ................................GUARANTEED!!!!!!!!

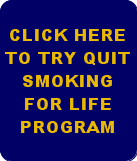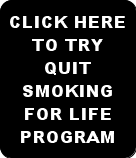 BE SMOKE FREE IN LESS THEN 30 DAYS